#WeAreHestiia
At hestiia, we champion the home energy revolution, and shift the way people think about sustainability for consumer hardware from an idea of wasteful consumption, lack of innovation, expensive technology, and decreasing standard of living to an idea of living smarter, developing technology that serves our planet, making solutions accessible to all, and empowering consumers to become actors.
Our vision is to enable the transition to a more sustainable lifestyle
Our mission is to develop a new source of heat by using innovation to improve purchasing power and accelerate the energy transition.
2013
Camille and Alexandre observed just how much energy we were wasting every day
2018
The team installed our first product, which allowed customers to recuperate the heat from shower waste water
R&D for sato product
2020
April 2021
Sato market launch
Seed round of fundraising: €1,2M
2018
October 2022
A new brand! Hestiia is born
New round of fundraising: €1,3M
Décembre 2022
January 2023
The team grows, +30%
The continuation is to be written...
2023
Our values
🍃 Embrace responsibility. Ever upward! Take responsibility rather than searching for excuses. Failure is a learning moment.
🔁 Improvise fast, adapt, and overcome. Time is our most scarce resource. Don't be afraid to innovate at with speed.
🤝 Transparency builds trust. Be open about your failures and course correct early. Transparency removes internal politics, information hiding, wishful thinking, and unveils problems early.
💫 Go beyond the expectation. Going the extra mile enables exponential growth. Delight customers with a solution that raises the bar to a higher standard.
🦋 Humble conviction. Listen as if you are wrong, and argument as if you are right. Surround yourself with people who are smarter than you. This allows us to move forward confidently and quickly, while course-correcting when new information arises.
⭐️ Shoot for the stars while staying deeply rooted in reality. We are idealistic in the vision and pragmatic in the execution.
💆 Care radically for others. Care for those with whom we interact. Whether it is with your team, a partner or a client, we expect everyone to be able to be personal, sincere and authentic.
💥 Bring passion to work. Passion transforms a job into a vocation. Your passion is a gift. Come contribute to the energy transition with us.
Why join us? 💜
For taking part in an adventure that has a real impact on the energy transition 🍃

Hestiia growth has begun and our ambition is exciting

To work with a very dedicated team 💪

Be ready to collaborate with passionate people while radically care for others

Competitive package & meaningful equity grant 🏆

Based on the market and relevant with your competencies

Health insurance 💙

100 % health insurance Alan Blue covered by hestiia

Awesome offices in Nantes 🏰

Literally, work in a castle and make a splash in the pool on sunny days

We don't work on Friday afternoons ☀️

The opportunity to leave earlier for the weekend and have extra time for your personal hobbies (or just to do nothing)

Partially work from home 🏡

Our Work From Home policy includes up to 1 day per week and the possibility to take a full week of remote work occasionally

And many more reasons...

But we'll let you discover it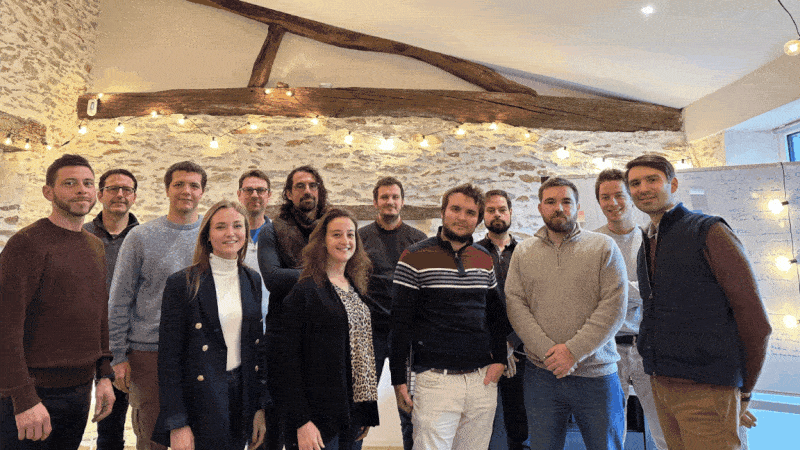 About Hestiia
We are developing innovative and affordable consumer products with incredible user experience to accelerate our energy transition by recycling heat.

Already working at Hestiia?
Let's recruit together and find your next colleague.